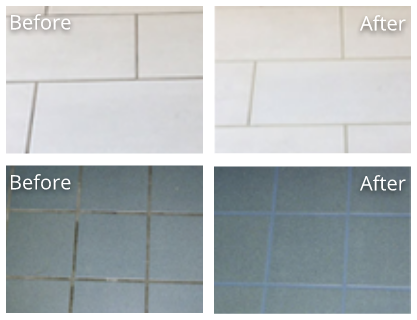 MARBLELIFE TileLok Services - Mold Blocking Treatments
Mold needs moisture, organic material to feed on and prefers a dark environment. Eliminate these elements and one can disrupt the molds growth and tendency to return. MARBLELIFE's TileLok Treatments can help. Once a surface has been cleaned free of mold, TileLok coatings provide a non-porous protective barrier preventing moisture from reaching the stone surface. As an inorganic coating, the treatment provides no mold friendly media to support mold growth. Easy to clean and maintain, TileLok serves to protect a mold friendly surface from seeing a re-infestation of surface mold. The only way mold is coming back is if it is growing onthe back side of the tile, in which case, you have bigger problems, with moisture leaking behind the stone.
A great surprise. Thanks for making my travertine kitchen floor look new and shinny once again. And the filling of the cracks (settling) was so well done it is hardly visible now. Thanks again, Amelia Johnson.
Amelia
5
Great job, quick, clean and courteous workmanship. Yes, we would use MarbleLife in the future to maintain our marble floors.
Rich
4
Showed up on time. Kept everything clean and granite looks wonderful.
Betty
5
We are so happy with the results! Our travertine looks brand new, inside and out! You can't even see where we had some holes in the tile! It was polished and sealed perfectly. Thank you so much!!
Christina
5
Second time customer of Marblelife. Great service again. Worker on time and got his work done in a short time. Thanks.
Jon
5
Extremely professional, courteous and qualified. I have used them many times because of their excellent results. Highly recommend them.
Julie
5
I would happily recommend Marblelife and specifically Jorge who did a fantastic job honing and polishing my limestone floors - they look brand new!! Jorge is a skilled professional who is efficient, courteous and very respectful of the property. The service was well worth the fee paid.
Linda
5
Very professional and timely. Would recommend strongly to others.
Michael
5
Great service and excellent work quality. On time.
Nancy
5
This company has been very reliable and consistent since the very first time we contacted to use the marble restoration service, starting in 2007. My travertine looks better after they polish and clean than the day it was installed. They arrive on time and clean up before they leave.
Rebecca
5
Marblelife has always done an amazing job cleaning and polishing the marble that we have on a large water feature in our treatment room. Very professional and they are perfectionists.
Risoldi Family Chiropratic
5
I am very happy with your workmanship top quality service. My floors look like glass Thank you marblelife.
Robin
5
I was impressed with Joe's knowledge, professionalism, diligence, and technical skill in repairing my shell stone table tops. I would recommend Marblelife to others without hesitation. If I should need any other repairs or services performed in the future, I will definitely call Marblelife for their expertise in stone and tile restoration.
Ronald
5
Joe, the tech, has come to our house twice for two seperate jobs. After the first job, we specifically requested him. That guy never quits working, and takes pride in his work. He restored some badly scratched and etched marble , it is so smooth we love to walk on it now. Very fair pricing, easy to schedule with, clean, courteous, professional. All you could ask for in an interaction with a company. Zero regrets, and will have them come back in a few years to work on another section that will need it. 4/26/16 Rusty
Rusty
5
It was a great experience. You came on time. You worked very professionally and when done, the marble looked like new! I would highly recommend you to anyone looking for high quality at a reasonable price.
Ruth
5
Very good crews and all of the workers worked hard and were organized
Bob
5
We had a very positive experience! We were able to arrange a fast appt. on a Saturday, because we were leaving to go back North. We very much appreciated that and when the tech came he was knowledgeable, professional and quickly fixed the problem. We have been singing your praises ever since and will schedule you to do a more comprehensive job when we return to FL in the Fall. Michael and Linda Burke Water Club LBK, FL.p
Linda
5
The whole experience from getting a quote to actually having the work done was very professional. All appointments were prompt and on time. Whilst the work was being done sheets were put down and mirrors were covered. I am pleased with the all the results especially a marble floor which looks like new and travertine vanity top which also looks like new. I would have no hesitation in using Marblelife again or recommending them to others.
Hilary
5
I was very happy with the outcome of my floors. There were 2 areas that needed a little more work and Chris was very accommodating in coming back to make everything "just right"!
Erin
5
Your guys were on time. Took the marble out back so as not to make a mess in my house. I am very pleased with the results.
Barbara
5
Best decision we've made!! The travertine tiles were a matte finish, which looked so dirty, and now they are a beautiful polished finished. Beautiful! We love them and we loved the service! Thanks so much!
Linda
5
Very please with Marblelife's service and very fair pricing, would very much reccomend.
Steve
5
I. Live in a small town and they were very willing to come along way to do the work on my floors. They did an excellent job
Judy
5
I have used Marblelife once a year for five years to shine my limestone floors. Always satisfied.
Tim
5
Excellent service and result. My kitchen floor looked like it was new.
Sheila
5
Excellent service at a great value. My kitchen and bathroom travertine tiles were restored to look new. Thanks Chris!
Josie
5
As always, on time and do a great job. Please do send me a reminder when service should be. Please also recommend products to keep the floor looking as great as it does when you are finished your service. Thank you !
Sharon
5
Excellent!! Would use them again in a heartbeat
Peggy
5
Excellent job. My marble looked as good if not better than day one. Great job on restoring the grout and chips back to the original look.
Marc
5
We are happy with the workmanship and professionalism of the staff who came to do the job. Our marble flooring looks brand new again.
Rita
5
Great! Looking forward to using you again for other areas.
Tina
5
Incredible job they did. I never knew how beautiful the floors were until now. Almosr replaced them.
Ramona
5
We selected Marblelife to clean/polish the marble tile in our master bath and in our living and dining areas. This is a 21 year old home and the tile now virtually appears near new! Their employees are on time, courteous and do a wonderful job. I highly recommend them. Linda Allen, Silverthorn Golf & Country Club resident
Linda
5
My marble floors are better than new! Love them. The Technician was very thorough, explained the process, stayed on the job until finished, and did a great job!
Robert
5
Workers were efficient, clean and professional. They did a great job. We are extremely pleased.
John
5
Excellent! I will call again! It was obvious that you know what you are doing!!
Jane
5
Prior to the cleaning of our tile floors by MarbleLife, when we used the Swiffer the pad came back completely black, but after it hardly looks like it had been used. Great job, I highly recommend your services.
Jim
5
Marblelife did a wonderful job making my floor look the best it has ever looked They also did great work with removing the calcium deposits that had built up on my shower floor. everything looks brand new. i would definitely recommend MARBLELIFE to anyone who needs any stone or tile sealing, restoration etc....
Jenny
5
Chris, your guys did a great job and I would definitely use you guys again. I need a price on my Fiancé's place if you don't mind and there's a couple areas in my place that I think need to be touched up.
Jeremy
5
Very pleased this our third time using Marblelife.
Tim
5
Very professional, friendly, and done in a timely manner. Everyone was able to work around our particular lifestyle issues. Thanks for a great job. I do have a very small area missed next to the toilet in my wife's WC. I'll call you to schedule a time to fix when you're in the area. Thanks again
David
5
We are pleased with the results & overall experience. We will recommend Marblelife to our friends & will not hesitate to use the service again.
Diana
5
The Marblelife team was terrific! They were very professional; came on time and finished in the scheduled time frame. They were extremely neat and very careful when moving furniture. They explained products and care and maintenance. Our floors have never looked better! I highly recommend Marblelife and will be using them again when the need arises.
Rhonda
5
My floors look fantastic now. Actually they look better than when initially installed. There were a couple of problem areas that the Technician brought back to life. It was worth the cost and I will definitely use them again.
Marian
5
Marblelife cleaned and polished the 21 year old marble tile countertops/tub surround in our master bath and it virtually looks new. They also cleaned and polished the marble tile flooring in the formal area of this same home, making a considerable improvement in it's appearance. The employees were on time, polite, and did a wonderful job! Linda Allen, Silverthorn G&CC resident, Spring Hill Fl.
Linda
5
Excellent.Your workman treats his job like it's his own company. He takes a lot of pride in his work. I already recommended your company to a friend.
Susan
5
Crew did a great job on all of stone surfaces and floor.
George
5
I have been highly satisfied with Marblelife since first meeting them ten years ago! Beverly and Carlos Yepes
Beverly and Carlos
5
Very positive. Les and Jorge did a great job...were careful with their work...easy to work with. The experience was a good one in every way.
Tom
5
I have been using Marblelife once a year for the last three years. They always are punctual and do an INCREDIBLE JOB!! They are very CONSCIENTIOUS and go ABOVE AND BEYOND!! The workers are very PROFESSIONAL and DEFINITELY want to do a GOOD JOB!! I HIGHLY RECOMMEND THEM!!
Kathleen
5
The workers were very neat and did a great job. The marble looks wonderful! Very happy with job that they did.
Barbara
5
Did a very nice job and the results are terrific.
Pamela
5
Our home looks beautiful. The marble floor looks perfect with a nice shine. Anel & the other men worked very hard on the floors spending hours on their knees scraping old wax & dirt off. I will be calling you in 2-3 years when the floors need to be done again. We are very happy with your excellent work & service.
Barbara
5
Chris and his team did a great job on the marble in our home. We will use him on an annual basis to make sure our marble is in top shape. Thanks
Phil
5
The work that your team did in our master bath was outstanding. The marble looked as good as it did when it was first installed 18years ago. I am extremeley particular and allow very few contractors in my house due to being able to find highly skilled craftsmaen. I Highly recommend Marblelife and would use them again and would also recommend. Outstanding work!
Kathy
5
Overall, great. Two workers together working two bath counter tops and the kitchen countertop. They made extra effort to ensure any mess was kept to a minimum. A little above and beyond by touching up caulking was very appreciated. I was surprised however that the tops of the backsplashes were not touched (where dust etc accumulates). Also, a towel and plastic bag that housed a floor covering were left behind, but was no big deal.
Jerry
4
Marblelife did a wonderful job restoring our marble island slab. They were in and out of the house in a couple of hours. They're prices are reasonable.
Nick
5
Workers were polite and eager to please us, as customers. Anel did a very detailed and thorough job and guided his team very efficiently. Thank you for working with us again this year and for providing a very competitive price, Chris! We'll see you again next year! :)
Audria
5
It was great. Very professional. The workers were great and explained everything to me step by step.
Amar
5
Excellent service from scheduling to completion of work.
Linda
5
The young man that polished my kitchen counter tops was very prompt. He explained the process thoroughly and did an excellent job.
Jamie
4
Courteous, professional, on time and dependable...providing apparently effective correction for our rough and clothing-damaging granite countertop edges in kitchen and 3 bathrooms. (Original installation of granite not provided by Marblelife.)
Doris
5
I was very pleased with the experience. The tile and grout look brand new and the service technicians were very professional!
Susan
5
Very good! Arrived on time. Excellent work. Cannot see area of repair. No upcharging. Excellent all around!
Jim
5
Great.. The team that came out worked fast and were nice. There was one hole they forgot to fill though, near the Piano..Hoping they can fix it when they come back. I would like to schedule again to have the Master done and my closet. Would like a quote first. Thank you!
Tiffany
5
The entry floor turned out fantastic. Anel did a great job. Next time I will have the outside entry cleaned, polished, and sealed. I will probably also have my kitchen countertops polished and resealed. Thank you for a wonderful job. Melody J.
Melody
5
Very professional service and travertine now looks beautiful once again.
Michelle
4
I thought the people were very professional and took care of our problem! I would recommend them to anyone.
Susan
4
Did not realize our bathroom marble could look so good! Excellent service from start to finish.
Barbara
5
Chris has been very nice about questions regarding upkeep and cleaning of our marble and tile. The men who did the work, worked very hard, were considerate of our home and cleaned up after themselves.
Carol
4
Excellent results. The marble looked brand new when they were finished with the job.
Nancy
5
Excellent workmanship, customer service and price. Would use your company for future projects without reservation.
Doug
5
Guys were thorough and determined to have the floors be the best they could be and they were. Nice job. We want the same crew to do the second half.
John
5
Everyone that walks into my home says " your floors are fabulous what did you do? I tell them hired marbleife to restore them. Thank you for making me love my home again
Kim
5
Very happy with the work that they did in my bathroom and foyer. The floor looks like new. I will definitely be using Marblelife again. Carol Mouser
Carol
5
Our Travertine tile outdoor kitchen needed a resurfacing after years of weather wear. MarbleLife did a very good job of restoring a mirror shine to the tile surface. The area was cleaned up following the polishing operation. We are very satisfied with the job MarbleLife performed for us.
Bill
5
I have already referred you to several friends and I know that one has already used you. My only complaint, however, was the filler in a few of the chips fell out immediately. Otherwise I am completely thrilled.
Denise
5
Explained very clearly initially, performed professionally and to my complete satisfaction. Very pleased with the way our floors look.
Joe
5
We have had you do work on our terrazzo floor and have ALWAYS been VERY SATISFIED. Thanks for the exceptional work
Jack
5
Exceptionally great job! Floors shines like they were brand-new. Highly recommend and would use again in the future!
Maria
5
Great job. Les,is a dedicated employee,hard worker,competent and neat.
George
5
Extremely pleased with Marblelife's work. I had 3 bathroom floors, 1 shower floor and 4 marble tops polished and 'shined'. They took pride in their work and took care of my personal belongings. Consideration was taken into account for a 'new' carpet and other furnishings. I felt the pricing was fair. When s
Carol
5
I was very pleased with the work done and with the work ethic of your employee
Ilana
5
The boy that did our marble polishing did a wonderful job and was a complete gentleman
Todd
5
Chris & Jorge who did the cleaning and polishing of our marble floors did a excellent job. Chris' attention to detail was very impressive. They were no non-sense about getting the job done and done accurately. Thank you!
Clearwater
5
Superb. Nice, timely, quick, very careful to cause no harm to surrounding areas. Contemplating removing dated white tile with dark grey grout and replacing with hardwood. A mess and expensive. Decided to try "painting" the grout white to make it "go away" Experimented with Home Depot DIY and decided too tedious. For a very fair price this co. did superb prep and great, careful job applying it. 3 weeks later I am still thrilled with it and hope it lasts.
Cathy
5
The Marblelife guys did a great job on bringing back our soapstone counter to looking new...they were timely and cleaned up the space after all work was done. On several occasions for flooring and countertops we have used Marblelife.
Jeni
5
My quarzite surface was marking with dull, rough spots where liquids, not acidic,were set down or dripped or spilled. Your polishing and sealing made it go away. I now have another spot where a bowl was set down. Very disappointing. I don't know what is causing this. No vinegar ever used. Another quartzite island, years old, doesn't mark. Could it be my sanding or sealing? What else can I do?
Billie
5
Very good - your technician told me everything she was doing and was very pleasant
Bob
4
Work was done timely and in a professional manner. All work performed as contracted. Results were wonderful!
Gayle
5
Excellent, the technician was very professional and did an amazing job. Not only did he complete the stripping, cleaning, and polishing in the estimated time but also walked me through each step before he began.
Joe
5
Your people were extremely professional, courteous and hardworking. They did a super job.
Kathy
5
Very pleased with the work ... met every expection. Suggestion --- I paid $10.95 for a bottle of stone cleaner after I wrote a check for $1,100.00 ... seems that it would be better customer relations not to charge for such a small amount ... after being pleased with the job and staff being charged for such a small amount was silly on your part ... Thanks! Bob Hendel
Robert
5
George did an excellent job. My marble bathroom counters look like new. He was neat. I can't wait to get my kitchen counter done.
Patricia
5
Due to the type of granite finish on my counter you weren't able to polish it so we settled for just a cleaning which I am happy with
Roy
5
I really like the way MarbleLife does business. Chris and George were very helpful, and went out of their way to make sure that we were happy. I appreciate that type of customer service. I work in the customer service industry and you do not always see that every day. Job well done!
Christopher
5
The service was great. Quick response from initial contact -the quote was quickly done and work was scheduled and completely within a week to budget.
Elizabeth
5
Guys did a great job. They were courteous and friendly. They left the bathroom clean and looking olongapo great. Would use you again,
Donna
5
Second time I used and extremely happy. Really like the team who came. Very friendly and concerned about doing a good job and that I was satisfied too. We have a wood floor and the crew was very careful in covering the floor and getting their equipment to areas they were to service.
Theresa
5
You all responded quite quickly, as we are in a time issue with selling our condo. There was a lot to do to shine up the two bathroom counters, the kitchen counters and the Masterbath shower tile job. There were just a couple places in the Masterbath tile that have a little yellow still, and a little cracking on the shower seat corner grout. If you have anyone who could just come by and touch up those few spots, that would be great. We have not used that shower since the job. We did not realized it was just sealed on the shower floor grout, not the sides. We did not know to ask. You can call me at (727)798-7219. Thanks, Holly and Keith Bennett at The WatersEdge Condo.
Holly
4
I have waited years to get my marble bathroom counter refinished and was thrilled that your company was willing to do it. The technician was friendly, courteous and conscientious and I am pleased with the results
Ardeth
4
Excellent, from initial visit and quote for services, to the two very skilled techs that completed the job. Excellent care, workmanship, results, attention to detail, cleanliness. I am amazed how good our terrazzo floors look, how well the repairs blend in with the overall floor and the overall shine. Highly recommend this company. Thank you!
Teresa
5
I was impressed with the very fast response to my estimate request, and thrilled that the work could be done on the spot for a very reasonable amount. I have already given your info to my Realtor, and will certainly recommend you to others as well.
Nancy
5
Crew was on time, friendly and efficient. Very satisfied with service.
Kathy
5
Very Professional and the work was great. I would recommend them to anyone.
Marijane
5
Everyone I worked with from Marblelife were outstanding: professional,on-time, courteous, and competent in their work. Counters look like they were newly installed.
Carol
5
You saved our countertop, we had several large glass rings left on our marble countertop and tried about 4 or 5 methods, but nothing worked, till my husband see you at the doctors office, you were very quick to come out to the house, you went to work on it.when you were finished, it looked better than when we first got it installed. We were so happy with it that I went on buildinglink and let everyone know that if they needed work done on stone, you were the guys to go. Thank you Maureen Roberto
Richard
5
Marblelife did an amazing job on my floor again! I used them seven years ago and both times my floor ended up looking like new.
Sofia
5
Everyone was very nice. The man who polished the granite in the kitchen and recaulked the seams did a great job. The white octagonal tile floors with the white grout are white again. You got all of the tape residue from around the edges where it had been put in the renovation. Will definitely recommend.
Gregory
5
We have been using Marble Life for the past three years and have no complaints. The team is always on time and very professional, the price is very competative.
Chuck
5
the crew that worked on my floors were knowledgeable and worked well together. I did not expect the residual clean up afterwards due to my dark wood floors and dark cabinets however I would not complain about the quality of work that was completed on my marble and travertine. I would highly recommend them again!
Laura
5
Well done from start to finish. Thanks so much for making an exception for repairing our shower stall.
Tom
5
Very positive experience. It is the first time I booked a company advertised in one of the home magazines that come in the mail. Jorge was very honest about what could or could not be corrected on our marble surface. His estimate was fair. Les, who did the work, arrived on time, was neat and did a great job on restoring the marble to a great shine. I would definitely recommend this company and will be calling them again in the future.
Nancy
5
I was extremely pleased with the cleaning, polishing, and dealing. I forgot how beautiful the granite really was . The repair was just ok. I feel as though he could have used more epoxy because there is an indentation where the repair was done; it is not level with the rest of the counter.
Maxine
4
As always, your guys did a great job and were very pleasant!! The floors look fantastic !
Elizabeth
5
Very punctual and efficient. Were able to take care of bad spots and now foyer looks beautiful.
Margarita
5
What a great experience we had with your company. The technicians were professional and very skilled. Our floors and countertops were restored to like new condition. We will be getting yearly maintenance from them to keep or home looking like new.
Jim
5
Thank You for a great experience. The gentlemen did a wonderful job. They were very good at their job. I would certainly recommend your company to my friends. !!
Betty
5
W O W!!!!! We did business with another company for many years but they were not doing the job on our terrazzo floors that we wanted. So we met with Mr. Rawson with your company and he sent out Joe to polish our floors. We cannot express enough on what a beautiful job he did! He put paper up so there would be no splatter on the cabinets & furniture. Best of all he took his time to make sure all are expectation were met. He even helped us move some items. We are very grateful to have found MARBLELIFE & we will see you again in 6 months for the next polish. Thanks again!
John & Kimberly
5
Excellent service, floors never looked this great! Joe did a fantastic job and look forward to seeing him again in December, thanks again!
John & Kimberly
5
The staff was very professional. We were very pleased with the results and will definitely use your company again for future jobs,
Celeste
5
George M. did an awesome job! The final results were comparable to installation look years before! I would recommend Marblelife to anyone.
Ester
5
Your crew was neat, clean and respectful of my home. They did a good job for the price charged. Thank you.
Jeff
4
Very professional company with outstanding results. Fair pricing, reliable and honest. I am very pleased with my floors and am grateful to Jorge for his professionalism and hard work. My floors look wonderful and the job was completed on time with no surprises. Thank you for your service, I would highly recommend Marblelife.
Julie
5
Last week was the third time I used Marblelife to clean and polish my floors and I have never been disappointed !!
Zachary
5
The job that your crew did on my marble floor bathroom was just outstanding. I was apprehensive about the outcome before the job was started but blown away at the results (it looks new again). The estimator came on time, was professional, quick / to the point and we scheduled a day for the work. The two man crew showed up on time on the scheduled date, immediately began working and in less time than scheduled completed the job (2 hours). Friendly, courteous and had a great work ethic (get there on time, get the job done, quality product/make the customer happy and finish ahead of schedule). These guys were great, I wish I had more marble floors for them to bring back to life.
David
5
This was our 3rd project ... with more to come. Each project was beautifully completed. The technicians were knowledgeable and experienced. Each time they left us with beautiful, high gloss floors.
Doris
5
I was sooooo impressed with the service and care that the technician gave. I will highly recommend you to EVERYONE i know!!!!!! My marble countertops look even better than I had hoped for.
Nancy
5
Marblelife did an excellent job restoring the marble tile in our shower. The shower was probably at least 15 years old, and the stone was damaged from years of use. They were prompt, came when scheduled, and did all the things they promised, including those little details that some workmen leave unfinished. They applied new sealer and replaced the damaged caulking. Very pleased with how it turned out. And surprisingly, the shower is less slippery now than before. Refinishing the shower cost a fraction of what replacing it would have, and it only took one day. The only negative I can think of is that the sealer has an odor, and it took a few days for the smell to evaporate. But that was small in comparison to the extreme nuisance and cost of having the shower rebuilt. I recommend this company highly.
Liz
5
Bathroom floors came out great - reasonable price too. Can't wait to have kitchen floors done next!
Debra
5
I have only had positive experiences with Marblelife and your employees. The are prompt, courteous and conscientious about their work. I have used your service 3 times now and will certainly use you again. Thank you! Penny Bickley
Penny
5
I was extremely pleased with the entire process. When I originally called for an appointment, the agent took my information and said someone would be in touch. Jorge contacted me within an hour and set an appointment. He was on time, knowledgeable and professional. I also thought the price he quoted was fair. We set an appointment for the service to be done and Jorge followed-up the day before to confirm. The next day the technician (also named Jorge), was on time and explained the process he was undertaking. The floors came out even better than I was anticipating. Jorge also left my house as clean as it was when he arrived. YOU HAVE A VERY HAPPY CUSTOMER!!!
Don
5